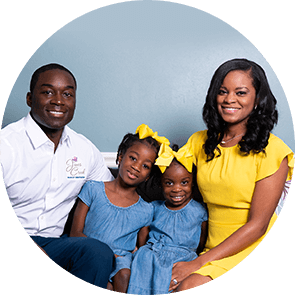 If you're looking for a dentist in Baton Rouge, LA, you have quite a few options to choose from. But not all dental offices are like Jones Creek Family Dentistry! Read on to learn more about why patients rave about Dr. Jones, and get to know some of the services and amenities we provide at our Baton Rouge dental office.
About Dr. Jones
Dr. Courtney P. Jones received her dental degree from Texas A&M Baylor College of Dentistry in Dallas, TX and has lived and practiced in the Baton Rouge area ever since. A New Orleans native, Dr. Jones earned her Bachelor's degree from LSU in biology with a minor in sociology.
Dr. Jones opened Jones Creek Family Dentistry in 2017 with a commitment to serving patients of all ages and backgrounds in the Baton Rouge area.
Modern Technology for Comfortable Service
One of the most unique qualities of Jones Creek Family Dentistry is our use of modern technologies and techniques to provide accurate and pain-free care. Some of our favorite tools include digital x-rays, which are much safer and quicker than traditional x-rays and allow us to deliver expert care faster, and the intraoral camera which can take digital images of your mouth using a small, sleek device.
Spa-Like Amenities
It's our priority to make your time with us as comfortable and pleasant as possible, no matter what you're at our office for! We provide office-wide WiFi so you can surf the web while you wait for your appointment along with complimentary beverages to help you get settled in. For our younger patients, we have toys and games for them to play with, too!
For your appointment, you will have a private treatment room with a TV so you can watch your favorite show during your treatment. You can also opt for a pillow and blanket to get extra cozy in the dental chair! Once your appointment is over, we'll provide you with a warm scented towel so you can freshen up and get ready to tackle the rest of your day.
Comprehensive Care
Dr. Jones is professionally trained in a variety of services, including preventative, cosmetic, restorative, and pediatric dentistry, allowing her to provide comprehensive professional care to her patients. There is something for everyone at Jones Creek Family Dentistry, so you don't have to take your family to multiple dental offices just to get the care each family member needs. Plus, we offer flexible financing to accommodate every budget.
Interested in visiting our dental office? Contact us to schedule an appointment and check out our new patients page. We look forward to welcoming you to our Baton Rouge, LA dental office!
Contact Us