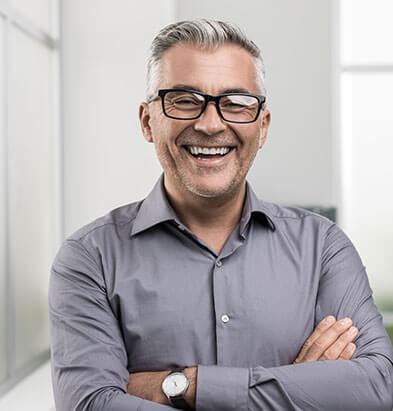 Dental Bridges in Baton Rouge, LA
---
Have missing teeth left you to explore your tooth replacement options? At Jones Creek Family Dentistry, we offer a variety of restorative dentistry treatments, including dental bridges. This natural-looking method of tooth replacement can close the gaps in your smile and restore its functionality. Want to learn more? Call to speak with a member of our friendly team today!
Request Consultation
Dental Bridges 101
---
A dental bridge is a restorative dental structure used to fill the gaps left behind by missing teeth. It is composed of two or more dental crowns with false teeth in between. The dental crowns will be permanently attached to the natural teeth or dental implants surrounding your gap and the false teeth will fit seamlessly into the empty space. Bridges are often made of ceramic or porcelain material as it can be matched to the exact shade of your natural teeth.
Cost of Dental Bridges
---
Every smile is unique and the cost of treatment ranges on a case-by-case basis. We do everything we can to provide affordable dental bridges to the Baton Rouge community. We're an insurance friendly practice and we're happy to take over the responsibility of your insurance claims. If you're uninsured or you would like assistance with out-of-pocket costs, we also offer customizable financing through CareCredit®. Our goal is to help you get the dental care you need in a way that's affordable for you.
Contact Us
Dental Bridge FAQs
---
When should I get dental bridges instead of another restorative treatment?
Typically, dental bridges are recommended when you still have remaining natural teeth in the gum line and you'd like a non-removable prosthesis. At your restorative dentistry consultation, we'll discuss your smile goals and determine which treatment is best to achieve them.
What's the dental bridge procedure like?
When having a dental crown placed, a local anesthetic will be applied to numb the area we're working on. Next, your teeth will be shaped and modified to accommodate the dental crowns covering them. We will then permanently attach your dental bridge and inspect its fit, appearance, and your overall comfort.
How should I care for my dental bridges after I get them?
Your dental bridge should be cared for exactly as your natural teeth should. Brush at least twice per day, floss on a daily basis, and rinse with an alcohol-free mouthwash regularly. If you know you have a tendency to grind your teeth at night, you may consider investing in a nightguard to wear while you sleep.