Your Trusted Emergency Dentist in Baton Rouge, LA
---
We understand that dental emergencies can put a kink in your entire day. If you have a severe toothache or a dental trauma, our emergency dentist Dr. Jones can help you get back to enjoying life as quickly as possible. At Jones Creek Family Dentistry, you can rest easy knowing that if you experience a tooth emergency, you won't have to face it alone!
In need of urgent dental care? Call 225-960-5533!
Types of Dental Emergencies
---
There are a variety of situations that may require emergency dental care. If you have any of the following dental problems, we recommend that you call our office right away so we can get you into our office as soon as possible.
Abscess (bump) on gums
Broken dental crown or denture
Chipped or cracked tooth
Knocked out tooth
Loose adult tooth
Lost filling
Toothache
Do You Need An Emergency Dentist?
If you're currently dealing with a dental emergency, we strongly encourage you to call our office immediately. The sooner you call, the faster we can treat the issue and alleviate tooth pain. We leave room in our schedule for emergency appointments so we can see you the same day you call.
What to Do in a Dental Emergency
If you experience a dental emergency, we advise you to call us so that we can guide you on any steps you should take before you get to our office. For a toothache, you should gently brush and floss to remove any potential debris and rinse with warm salt water. If your crown falls off or your tooth is knocked out, try to put it back over your tooth or in the socket and keep it in place by biting down on gauze on your way to your emergency visit.
If you have any questions or you're unsure if your dental issue constitutes an emergency, please call us and we'll let you know the best thing to do for your situation.
Call Jones Creek Family Dentistry for an emergency appointment!
Call Now
Complete New Patient Forms
---
For your convenience, you can fill out our new patient forms ahead of your actual visit. Just click the button below to bring up PDF versions of the forms. Print and fill them out, bring them to your appointment, and we'll take care of the rest!
Print Forms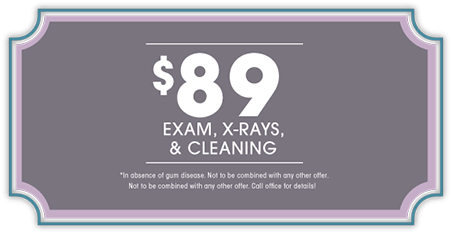 Redeem New Patient Offer
If you're planning your first trip to our office, don't forget that you can take advantage of our new patient offer. It's just our way of saying thanks for choosing us to look after your smile! You can print the offer and take it with you to your appointment, or you can mention it to a team member in person.
Print Coupon