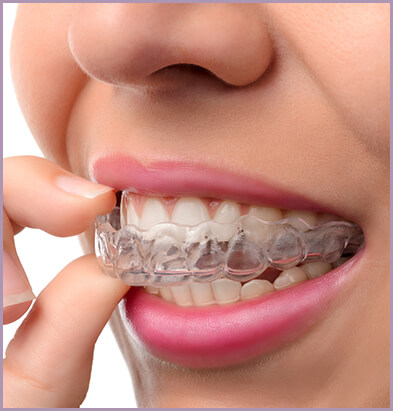 Orthodontics in
Baton Rouge, LA
---
Many people aren't lucky enough to have naturally, perfectly straight teeth. If you have any crowding, spacing, or misalignment, you don't have to deal with those dental issues for the rest of your life. Instead, orthodontics can help you get a straighter smile, and a straighter smile is a healthier, more attractive smile!
Know you want to improve your tooth alignment but not sure the best route to take? That's what we're here for! Come in for a consultation and we'll provide a professional recommendation based on what it is you want to fix.
Request Consultation

Six Month Smiles® Accelerated Braces
---
Six Month Smiles® take the tried-and-true technology of braces and modify it to suit the lifestyle and needs of today's busy adults. It may be hard to believe, but the average treatment time is just six months! This is possible because Six Month Smiles focuses on the cosmetic appearance of your teeth rather than dramatically changing your bite. As an added plus, the braces are clear and the wires are tooth-colored so they are subtler than the traditional braces you're probably used to.

ClearCorrect™ Aligner Therapy
---
When you think about orthodontics, your first thought is most likely braces, but there's actually another option out there — aligner therapy. With ClearCorrect aligner therapy, the brackets and wires of braces are swapped for clear trays. We custom make a series of trays, similar to Invisalign, and each set is designed to move your teeth a little bit more until your treatment is complete.
Besides the fact that they're barely noticeable, ClearCorrect stands out from braces because its aligners are completely removable. Throughout your treatment, you can eat without food restrictions, brush your teeth like normal, and continue to smile confidently!
Contact Us
Orthodontics FAQ
What makes aligners different from traditional braces?
Compared to traditional braces that use metal brackets and wires, clear aligner therapy utilizes retainer-like trays to straighten teeth on the upper and lower arch. Another difference is that aligners are removed to eat, brush, and floss, whereas traditional braces are cemented in place for the longevity of the treatment. While braces are noticeable and hard to hide, most aligners are clear, so that you can discreetly straighten your teeth!
What's the difference between Six Month Smiles and ClearCorrect?
Six Month Smiles uses clear brackets and wires on the front teeth that show when you smile. This allows for an accelerated orthodontic process that can be completed as early as your next six-month dental checkup. ClearCorrect is a form of aligner therapy that straightens your teeth with a series of clear, plastic aligners. While Six Month Smiles braces just straighten the teeth that show, ClearCorrect adjusts the entire arch of teeth.
How do I care for my aligners after I get them?
After you get your aligners, it's important to wash them regularly with soap and warm water, brush the inside with a toothbrush and toothpaste, and/or soak them in a dentist-approved cleanser. Since you wear them most of the day and throughout the night, bacteria can buildup inside the aligners, so it's always best to clean them at least once a day.