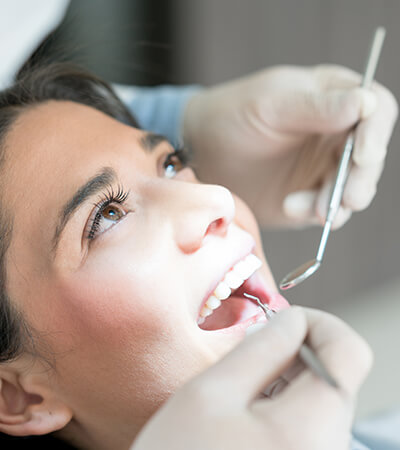 Dental Fillings in Baton Rouge, LA
---
Routine cleanings and exams, additional preventive treatments like dental sealants, and a thorough at-home oral care routine are all great ways to protect your smile from tooth decay. Should you develop one or more cavities, however, our team would be happy to remove the decay, replace it with durable dental fillings, and have you smiling big again in no time! To schedule a visit with our team, please give our office a call or send us a message through our contact form, and we'll be in touch with you shortly.
Contact Us
Dental Fillings FAQ
---
How long do dental fillings last?
Dental fillings typically last between 10 and 15 years before they need to be replaced. Chronic teeth grinding or developing more decay around a filling can create the need for a new filling sooner. Every time patients visit our office for routine cleanings and exams, our team examines their teeth, gums, and dental restorations to see how they look and make recommendations for when they need to be replaced. If your filling is cracked, has changed in color, or has fallen out completely, please let our team know, and we can repair or replace your filling for you.
Do dental fillings hurt?
Before we remove any tooth decay, a local anesthetic is always injected into the gums near the tooth to completely numb the area. It's common for patients to feel some pressure on their teeth, but the treatment itself shouldn't hurt. For some patients, the sound of the dental drill or the anxious thoughts that arise during their treatment are what worry them more than pain. If this sounds like you, we recommend talking to our team about our dental sedation options. Once the numbness wears off, you shouldn't feel much discomfort, but if you do, an over-the-counter medication like Tylenol or Ibuprofen should be enough to relieve any pain.
Are there any alternatives to dental fillings?
Unfortunately, once tooth decay has developed in a tooth, the only option is to remove it and replace it with a dental filling. It is estimated that over 90% of American adults will develop at least one cavity in their lifetime, so not only are dental fillings a common dental treatment, they are nothing to be ashamed about. We recommend that you schedule your filling appointment as soon as you can, as it will only become worse the longer it goes untreated. If dental fillings are avoided, a root canal and dental crown could become necessary instead.
Contact Us