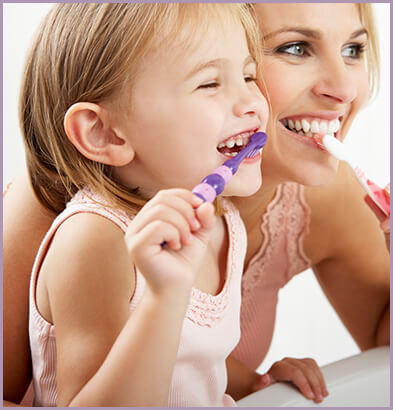 Kids Dentistry in Baton Rouge, LA
---
There's a reason "family" is in our name! At Jones Creek Family Dentistry, we love taking care of both adults and children, and we welcome your family to visit us for dental care. Rather than shuttling around town for separate appointments at individual doctors, you can bring the whole gang to our family-friendly dental office!
Don't forget that another important first in a child's life is their first dental check-up. It's easy to remember when this should happen because it's either when they get their first tooth or when they have their first birthday. If your child is older and still hasn't seen the dentist, don't worry — just bring them in as soon as you can! No matter your age, regular visits to the dentist are a must for a lifetime of healthy smiles.
Make an Appointment
Kids Dental Care
---
We provide preventive and restorative dental treatments for infants all the way up to teens. In addition to routine cleanings, check-ups, and X-rays, we provide sealants and fillings (to protect against decay), fluoride treatments (to strengthen teeth), and mouthguards (to wear during sports). We also offer dental crowns, extractions, and root canal therapy. Our team can provide at-home care instruction and nutritional advice to make sure your child's dental health stays in tip-top shape.
How to Make Your Child's Dental Visit a Success
---
We don't want your kid to spend years avoiding the dentist because they had a bad experience when they were younger. Here are some helpful tips to make sure your child's dental appointment goes off without a hitch:
Look into books, crafts, and apps that deal with dental care so your child understands why it's important to take care of their teeth.
Be a good role model and always talk about the dentist in a positive light. Definitely avoid using the word "pain"!
Stop by our practice ahead of time for a meet and greet. We can show your child around the office and have them meet the staff so when their actual appointment comes around it won't seem so unfamiliar.
Consider the time of your child's appointment. Many young children are more cooperative in the morning, and you'll want to avoid bringing them in when they'll be tired or hungry.
Show your kid the toys and games in our office. We have these around specifically so children can stay entertained and feel at ease.
Safe Sedation
---
Laughing gas, is a mild, safe sedative agent that can help nervous, anxious, or scared children get through their dental appointments with ease. To administer the gas, we'll place a small mask over your child's nose and ask them to breathe in and out through their nose. As the laughing gas takes effect, your child will remain awake but become more and more relaxed. They'll be able to respond to instructions and answer any questions. When we stop administering the gas, it takes just a few minutes for the effects to wear off and for your child to feel back to normal.
Contact Us
How many times should I bring my child to visit the dentist per year?
Children should visit the dentist just as often as adults, or at least twice per year. It's important that they have their teeth cleaned by a dental professional who can remove built-up plaque and tartar from hard-to-reach areas. We also like to see our patients biannually so that we can diagnose and treat any problems sooner rather than later. Typically, the earlier we can identify a dental issue, the more treatment options we have available that are less invasive and more cost-effective.
Are baby teeth important?
Even though baby teeth are temporary, children and their parents should do their best to keep them clean and healthy. Taking care of baby teeth can prevent dental issues from developing in the present and further down the road when their adult teeth start to grow in. We have also found that children who visit the dentist regularly and learn the importance of taking care of their teeth and gums at a young age tend to continue those good habits well into the future. If you have any questions about kids dental care, our team would be happy to help!
Is dental insurance available for children?
Many dental insurance plans offer coverage for dependents. Whether or not you choose to utilize dental insurance for your child will likely depend on their dental needs and your specific insurance plan. Our team also accepts payment plans through CareCredit®, which can break up the upfront costs of your kids dental care into more feasible monthly payments with little to no interest. For more information about financing the cost of your child's dental care, please visit our financial page or get in touch with our knowledgeable front office team.