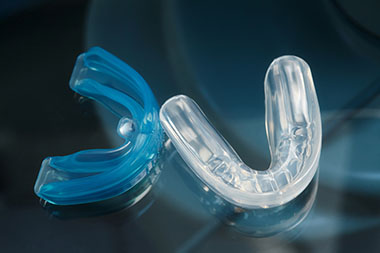 Custom Mouthguards

in

Baton Rouge, LA
---
Looking for a dental practice that can create custom mouthguards in Baton Rouge? Jones Creek Family Dentistry offers dependable custom mouthguards that can work for any patient who wants to protect their smile. Once we take impressions of the teeth during a quick appointment, you can expect your new custom mouthguard to be ready in about two weeks! To schedule a visit with us, please give our office a call or send us a message, and we will be happy to find a time for you to come in.
Contact Us
What are the benefits of custom mouthguards?
Whereas the mouthguards that you can buy at the store are one-size-fits all, custom ones are designed to fit your smile perfectly, making them much more comfortable to wear. When they fit better, patients are more likely to wear them, which means their teeth are being protected far more often. Our durable mouthguards are designed to fit nicely and last for many years.
What kind of mouthguards can you get from a dentist?
Our office offers athletic mouthguards and nightguards for bruxism, or teeth grinding. Athletic ones are useful for anyone who regularly participates in sports like football, soccer, or wrestling and wants to protect their smile from potential dental trauma. Nightguards are used by patients who grind their teeth at night and want to protect their teeth from being worn down and damaging each other.
How much do they cost?
Custom mouthguards tend to cost more than store-bought because they are designed for each patient's specific smile, but they are an excellent investment for patients who need reliable protection for their teeth. Some insurance plans may offer full or partial coverage, so we recommend checking with your provider. We accept payment plans through CareCredit® as well. For more information, please visit our financial page.
Contact Us