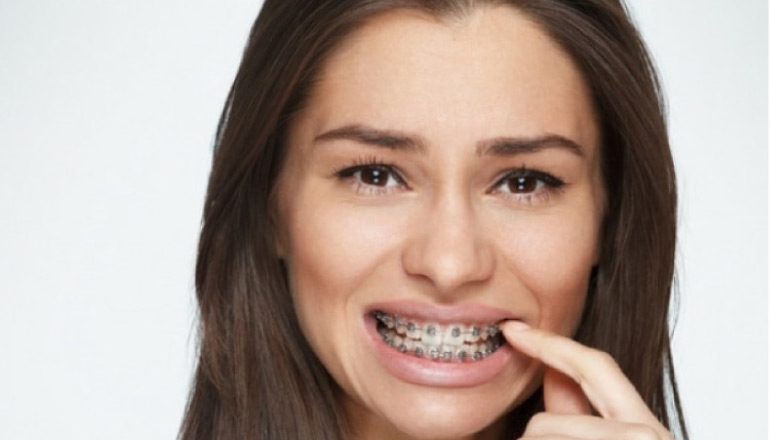 In the past, if you had misaligned or crowded teeth, or gaps between your teeth, you would need to wear traditional metal braces to get the perfect smile. Now, however, there are alternatives. These include:
Ceramic Braces
Ceramic braces are very similar to traditional braces, but they are designed to blend in more with your teeth. They often use clear brackets and enamel-colored wires, so people would have to be looking closely to notice. Because of their light color, ceramic braces are more vulnerable to staining.
Clear Aligners
Instead of brackets and wires, clear aligners are used like retainer trays. You actually remove the aligners for eating, drinking, and cleaning your teeth. After two weeks of wear, you swap the trays out for new ones. To clean your aligners, wash with soap and warm (not hot) water at least once a day. It's also a good idea to soak them in a cleanser we approve, so they get thoroughly sanitized.
Cosmetic Dentistry
The most extreme and usually most expensive teeth-correcting option, cosmetic dentistry includes porcelain veneers. Veneers are thin, hard shells of porcelain that are bonded misshapen, crooked, chipped, or discolored teeth. Veneers can last between 10-20 years.
Alternatives We Offer at Jones Creek Family Dentistry
At Jones Creek Family Dentistry, we offer two orthodontic options in the form of Six Month Smiles® and ClearCorrect™ aligners.
Six Month Smiles® Accelerated Braces
If your teeth alignment issues are very mild and you want to focus on your smile's cosmetic appearance, Six Month Smiles are a great option. Unlike traditional braces which are very obvious every time you smile, Six Month Smiles are clear with enamel-colored wires, so they are much less visible. The treatment has a very fast turnaround of just six months as they only straighten the teeth that show.
For an alternative that's even less like traditional braces, consider aligner therapy. ClearCorrect aligners are capable of adjusting the arch of your teeth, so they're good for mild to moderate teeth alignment issues.
Interested in Learning More?
If you have tooth alignment issues and want to perfect your smile, come in and talk to Dr. Jones and the team at Jones Creek Family Dentistry about your options, which include veneers if you decide to go the cosmetic dentistry route. During your consultation, we can assess your teeth and determine what the best solution is for your needs!
Contact Us