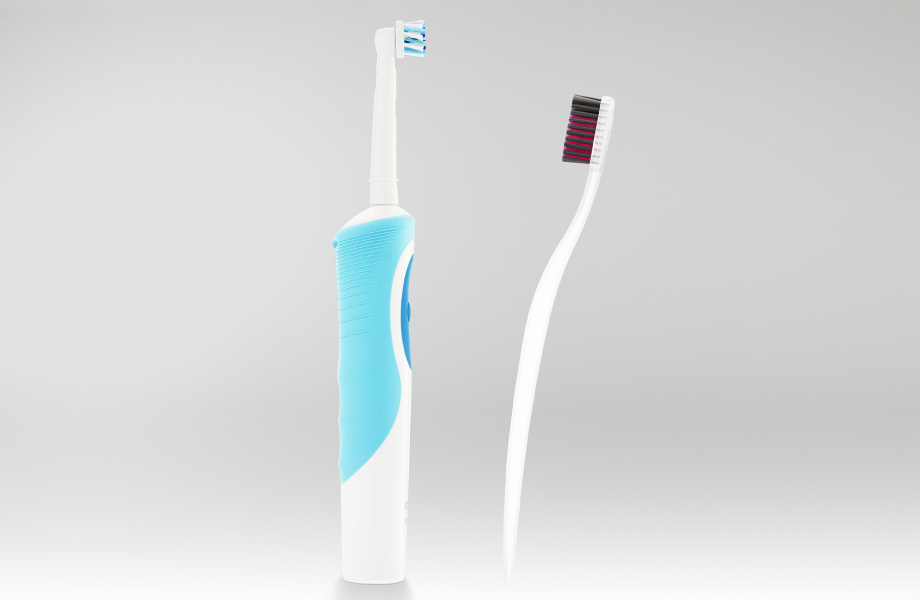 Electric toothbrushes are certainly fancier than manual toothbrushes. But are they really more effective at cleaning your teeth?
The Difference Between Electric & Manual Toothbrushes
Manual toothbrushes have different types of bristles, like soft or hard, depending on your preference. Their design has evolved over the years, becoming more comfortable to grip and available in a wide variety of colors. With a manual toothbrush, you do most of the work: brush in light circles at your own desired pressure.
With an electric toothbrush, you have a variety of selections at your disposal and don't have to put in much effort to get brushing done. Electric toothbrushes are chargeable and some have timers to let you know if you're brushing long enough. They are also gentler on gums, since we have a tendency to brush much harder than we should with manual brushes.
Advantages of Electric Toothbrushes
Having an electric toothbrush with different settings (such as whitening or deep cleaning) can help you achieve your desired results much more easily than changing up your brushing technique with a manual brush. Many electric brushes are very similar to the polishing tool that dentists use. That's why many dentists recommend electric toothbrushes over manual ones. Because electric toothbrushes are gentler on gums, you shouldn't experience bleeding or sensitivity using one.
Patients with orthodontics and elderly patients are fans of electric toothbrushes because of their efficacy and ease of use, too!
Disadvantages of Electric Toothbrushes
Electric toothbrushes are costly and can be clunky to travel with given all of their parts. If you are budget-conscious or are a frequent traveler, a well-made manual brush is probably better for you. There are many different electric toothbrushes out there, though, so you should always do your research before settling on the right toothbrush for you!
If you need recommendations for a good electric toothbrush or tips on developing better brushing habits no matter what kind of toothbrush you use, visit us at Jones Creek Family Dentistry! We'll help you find the right toothbrush for you and take care of your dental needs with expert and affordable care. Contact us to schedule an appointment!
Contact Us